Music in Review > 2010
Music in Review > 2010
01/11/11

I always like to look back at this time of year and think about the bands and music that helped me through the good times and craziness of last year. 2010 was a roller-coaster year for me personally, I took some great trips, clarified a lot of things in my career and had many friends take their life in different directions. I feel like these albums helped me power through, but remain reflective and introspective as well.
Without further BS, my favorite albums of 2010.
10 –> Vampire Weekend :: Contra
I can't figure out why this album is landing this high up on the list. I loved it. Maybe its that it was released early in the year and I have moved on. It could be that I had unreasonably high expectations, and though I was not disappointed, I was not overwhelmed either. Regardless of its status on this list, this is a great sophomore album for what is turning into one of the most polarizing indie-bands. Hipsters love to hate them because other hipsters love to love them. Vampire's broad knowledge and usage of a wide range of instruments and worldly musical stylings make Contra a triumph. I think Ezra Koenig is best compared to a young Paul Simon, with an earlier established interest in African music. I continue to look forward to whats next for this band.
Favorite Track :: Horchata
– – – – – – – – – –
09 –> Kid Cudi :: Man On The Moon II: The Legend Of Mr. Rager
Cudi's sophomore studio album, and the sequel to his first. Still stuck in his (apparently ever-stoned) mind, Cudi remains king of the lethargic, yet incredibly elaborate groove. His lyrics and and production lay into the beat; pulling not only your body back and forth, but your mind as well. Better than Kanye's My Beautiful Dark Twisted Fantasy? Maybe. Its clear the influence is going both ways with these two.
Favorite Track :: REVOFEV (Revolution of the Evolution)
– – – – – – – – – –
Taking their signature sound to another level here, Ratatat gives the world and mash-up artists a gold standard for electro-pop. You can dance harder to it. You can work longer to it. You can run farther to it. At its core this album is movement and energy provided in many ways by the afro-percussion prominent throughout LP4. Every track has a build and payoff, without the stress that usually accompanies such songs.
Favorite Track :: Tough… Bare Feast will give the best example, but the album is best listened to strait through.
– – – – – – – – – –
07 –> Frightened Rabbit :: Winter of Mixed Drinks
Been strongly behind this band since first listen in 2007, and notoriously missed their 2010 STL concert (I may have overreacted at work when I found out I missed it). My theory is that Scotland is genetically engineering incredible bands like the soviets developed gymnasts. Frightened Rabbit is a good illustration of this, and follow up to 2008's incredibleMidnight Organ Fight is proof positive. While Organ Fight proved the band had serious chops, Winter proves they are ready for the mainstream as well. Solid Lyrics and powerful delivery keep a consistently impassioned vibe across all tracks, even transitioning some songs from simple ballads in to what amounts to an all out footballers chant.
Favorite Track :: Swim Until You Can't See Land (sure its most popular, but it is truly a solid song)
– – – – – – – – – –
There is a good argument that Spoon could be the most popular and talented band you've never heard. Not you, but you. Expansive sound and an improvisational intuition make them just progressive enough to stay off the radio, but their affinity for their sound makes them easy to write off among music snobs. Spoon often can be recognized by their impeccable utilization of tempo and echoing guitar riffs, which are a staple on Transference. Well-written songs combined with dynamic instrumentation is enough put this album on the list, but the band's transparent yet seamless experimentation on Transference make it a special addition to 2010.
Favorite Track :: I Saw the Light (Love when it flips the switch half way through)
– – – – – – – – – –
05 –> Gorillaz :: Plastic Beach
Can you call this a Gorillaz ALBUM? Not only was it based on a comic book turned into a movie of which the music told the story, but it also featured so many other artists. Snoop comes in at the beginning, followed by the likes of Lou Reed, De La Soul, Mos Def, and Bobby Womack. While star-studded, Gorillaz admiral this ship. Their style and skill at establishing a hook are apparent throughout. The streamlines of the album begs for it to be listened to in its entirety. There is something quite retro about what is clearly a very progressive and dynamic album. Could be the prominence of the Casio keyboard Life Aquatic-esque sound throughout.
Favorite Track :: Some Kind of Nature (feat. Lou Reed) (Might be all about Lou, but I love the sound here)
– – – – – – – – – –
This band has so much power and popular appeal. I can see why everyone from 10 year olds to the most avid music festival goer look to them for incredible performances. I tried hard not to be into them, but its hard. Almost impossible to avoid not only singing, but screaming along to these songs. Send the album to your mom, to your daughter and then buy it for yourself. Everyone will find something love here.
Favorite Track :: Cameras
– – – – – – – – – –
I first heard Yeasayer on my favorite album from last year, the Dark Was The Night compilation album with the song Tightrope. One of my faves on an album of favorites. But when I checked out the bands' other albums, I was less than impressed. So much so, that I basically wrote them off as a one-hit wonder of sorts. I couldn't have been more wrong. Odd Blood is a titillating sonic adventure. An album you love to sing along with, but have no clue what the words actually are. This album has some pop sensibilities yet extremely dynamic, rendering it unplayable on the radio but enjoyable to anyone.
Favorite Track :: Madder Red (The video is awesomely weird)
– – – – – – – – – –
02 –> Beach House :: Teen Dream
Lead singer Victoria Legrand's voice is the star of the show on Beach House's third well-recieved studio album in a row, Teen Dream. Relaxing but impactful songs make the album great to work to, but possibly better for a long road trip. Beach House has a way with guitar riffs. They are instantly recognizable and you can't help but turn it up when you hear it. This album is great song after great song. Moody for sure, but sometimes you need that for true inspiration.
Favorite Track :: Zebra
– – – – – – – – – –
01 –> Arcade Fire :: The Suburbs
I am convinced that Arcade Fire will be the Pink Floyd of my generation. Suburbs is on par with every other Arcade Fire effort, which might be an insult to some bands. Here however, it is one of the best compliments I can extend. They continue to dominate every album they create. Always provocative and smart, but more so on Suburbs. This album is for anyone who has ever felt the in-authenticity of the suburbs but pined for a glimmer of what it was like to be a kid again. Its a dilemma of my and probably other generations, we want to build something new, but in doing so we have to destroy something old, something we loved as children that has fallen ill. Thats how I read this album, and with lyrics that amount to poetry and instrumentation that equates a symphonic arrangement The Suburbs hits on all cylinders. By it today, but more important, go see Arcade Fire when they come to town. Don't wait until you have no choice but to see the Australian Arcade Fire Experience in 2035.
Favorite Track :: Sprawl I & II (I consider this one song, complete spectrum of emotion here.)
– – – – – – – – – –
The Alternates ::
15. Goldfrapp – Head First (80's Pop-throwback done particularly well.)
14. Fitz and the Tantrums – Pick'n Up The Pieces (Retro-sound of Frankie Valley, done in a contemporary way.)
13. The Dodos – Time to Die (Acoustic pick'n done extremely well, all great songs.)
12. The New Pornographers – Together (Big fan of this band and A.C. Newman, Great album with a big sound and expansive songs.)
11. Kanye West – My Beautiful Dark Twisted Fantasy (Damn it, Kanye! Too much hype, but great album across the board. Production value was #1, unfortunately I thought this was Kanye's worst lyrical effort to date.)
– – – – – – – – – –
Those were the albums I was listening to, my faves. I could chat for hours on why or why not they have merit, but in the end we all know it just my opinion. Music is subjective to the Nth degree, which is why it remains so personal and important in peoples lives.
That Toddling Town
That Toddling Town
03/15/09


I spent this Pre-St. Patrick's Day weekend in Chicago. And I can't get over how much I digg that town.
I know that like three months in, its exactly the same as anywhere else. Eventually the novelty wears off, and reality sets in. But I like the reality of life in chicago. I'll go point for point.
01 > Public Transportation

The L, trains and buses make having a car in Chicago not only pointless, but in most cases just plain stupid. You can get anywhere at pretty much anytime with the insertion of a ticket. Goodbye sober driver, goodbye searching for parking, goodbye oil changes, tune-ups, flat tires, auto insurance and fender benders. Hello public transportation.
02 > Seemingly Endless Burrows

According to Wikipedia (which never lies) Chicago has a total of 77 community areas. Most of which have a distinct personality, unique attractions and convenient accessibility (see #1). When I ride the L, it seems like stop after stop has something of interest. I feel like I keep catching myself saying "this looks like a cool area." Now I know it's not all fun and games, and you have to be careful in all areas of Chicago, but even more so in some. But I feel like the extensive population and urban integration leads to a much more vibrant culture and thus a exponentially more fulfilling city.
03 > Great Food

Pizza, Sandwiches, Hot Dogs, Italian, Indian, Mexican, Brazilian, Chinese, Thai… The list goes on. The more cultural diversity and people looking for food, the better variety and quality. The best part about food in Chi-town, is that usually you walk about a mile before and after you eat, forcing the much needed exercise you need to eat all that delicious food.
04 > A Surplus of Parks and Recreation

I'm sucker for parks. Its good for communities, kids, dogs and most importantly me. I get 60% more exercise when I live near a park than when I don't. Well, this weekend I stayed in the Lincoln Park area of Chicago, and I kid you not, there was a park spanning both sides of Lakeshore Drive all the way to the city. Thats at least 3 miles of park right there.
05 > Lake Michigan and Subsequent Beaches

The lake is big. It has beaches. It looks cool. I can make sand castles and get a tan. I can kayak or play on wave runners. Sand volleyball and soccer, frisbee or just a little wading in the water or swimming. It's all good. Sure it's not the ocean, sure it might be a bit dirty or cold, but in the midwest we take what we can get.
06 > Awesome Skyline and Architecture

The Sears (or I guest Willis) Tower, regardless of it's height, is a spec in an ocean of amazing architecture that Chicago features. Its post-fire reconstruction yielded a renaissance of architecture and engineering spearheaded by the likes of Frank Lloyd Wright. I can't help but be awed by what I see when I stop and take a look around that city, from Navy Pier to Naperville the city looks incredible. But my favorite view has to be as you step out of an L station tunnel. You are consumed by the expansiveness of it all. Its breath taking, usually because of the freezing cold, and bone chilling wind, but also because of its beauty.
07 > The Cubs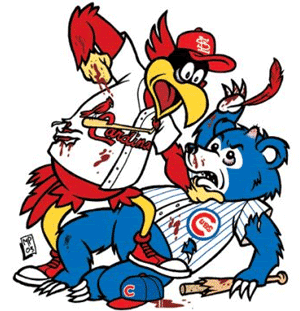 I don't like the Cubs. In fact I typically smile when they lose. I am a St. Louis Cardinals fan, and I always will be. But for that reason, I respect The Cubs. I'll even root for them if The Cardinals are out of the running. I like our rivalry. I like seeing Cubs fans in St. Louis for games and I would like to be a cards fan at games in Chicago (as long as I don't get stabbed or something). For whatever reason I think it sounds like a lot of fun to be there and cheering for The Cards, like I'm doing my part for the cause.
08 > Michigan Ave at Christmas Time

The best stores, tons of people, christmas music in the air, the smell of foods and chocolate, street performers, marketing promotions and the sounds of the city. Freezing cold makes you get all bundled up, wearing awesome scarves and gloves, maybe a stocking cap, I don't know. I know I'd hate the lines, but it just sounds like a perfect Christmas to me.
09 > Big City "Street Cred"

Nough' said… you are immediately cooler than 2/3 of the country if you live in Chicago or a big city. Others will deny that, but they know, deep down, that it's true. I'm not knocking small towns or rural areas. Thats where I'm from, I have had a great life and I'm really cool. There are thing to experience in a quainter, more condensed community that can never be experienced in the Chicago's of the U.S.A. But there's just more unique city experiences, and also something raw about living in the city that can't be topped. It is universally accepted as the dominant form of living.
10 > Style

We discussed this subject this weekend and here's my theory. I think the average Chicagoan is more stylish and fashionable than the average St. Louisan or the like. It's not because the people are cooler in reality. I think it has to do with exposure to other people, and thus other people style. On an average St. Louis day, I might see/be seen by 35 – 75 people, the entire day. I get up, see my wife, walk the dog, a few neighbors, get in my car, go to work, some people on the street, coworkers, get done, a few more on my way back to car, home to wife, neighbors, maybe a restaurant… In Chicago that number is exponentially larger. You are exposed to a hundreds upon hundreds of people in just the morning. And so are they. When people have to be seen by a lot more people they tend to care more about how they look, and thus style ensues. Second, I think that with so many people in what can be looked at as a mindless heard of sheep it can be important for some to stand out from the crowd more. Thus fashion, tattoos, piercing etc. are more prevalent. Plus, living up to the street cred mentioned in #9 can be a factor.
I know, I know… this blog post has no point. So as I hang my head in shame, let me end it like I ended english papers in High School. So, all in all I am fond of the Windy CIty, and plan to move there at some point in my life. Thank you.
Maybe I'll let my boys The Hood Internet explain Chicago through mash-ups, maybe that will end this post on a high note.
The Hood Internet vs Chicago by hoodinternet
Fun work
Martin Luther King Tribute
06/1/10

I wanted to attempt this style  in February, and being Black History Month I chose the Rev. as my muse.
His face is made up of the words of his epic Lincoln Memorial "I have a dream…" speech.
Take a look. I am having it framed as I type.
Smoking Goat Branding
04/1/10

I like beer.
Beer high in flavor, alcohol and price. I brew at home, but wouldn't consider myself very good at this point. I'm working on it.
We have friends in Louisiana who I would consider really good. I designed some branding for their forthcoming brewery down there.
The Smoking Goat will hopefully be amazing, especially if I get some good beer out of the deal.
Have a look. Then drink a beer and have a look again. Continue this process until the logo looks awesome.
New Poster
02/4/10

This is a poster I made for my buddy Dustin.
A classic quote from him as we drove by Effingham, IL's infamous and huge cross.
I thought it would look good in his new apartment.
Sheltered Perceptions
01/6/10

I recently got the chance to work on a project for the Humane Society. Given the fact that every time I walk into an animal shelter I have to be talked down from taking home every animal in the place, I was happy to help in anyway I could.
With the majority of pet buying in the United States coming from breeders, mall pet shops and unfortunately mills, animal shelters (specifically the Humane Society) are left overflowing with pets that need loving homes. They are running into a perception problem however, and many misconceptions about shelter pets are accepted as fact, and often repeated as such.
To get past this, we decided to take the problem head on, and address the most common misconceptions individually.
Here is where we landed:
Lauren and Dan sit'n in a tree…
01/5/10

My good friend Lauren is getting married in July, and though I am extremely jealous of her fiance Dan (don't tell my wife), I made their save the date cards.
I use VistaPrint to print these types of things. Though the quality suffers, and the rumor is that they are destroying local community printers nationwide, for the price they can't be beat. Check them out next time you want to customize your own holiday card or invitation.
Here's how Lauren's STDs turned out: